MNC has developed an extensive network of relationships with strategic partners and Subject Matter Experts (SMEs) to provide our clients with comprehensive, leading-edge solutions.
Our Corporate Partners Include:
Altalis is responsible for the management and distribution of primary provincial mapping data sets within Alberta.
Silvacom is a leading natural resource management company providing professional services to private and public sector organizations.They're passionate about working collaboratively and creatively with their clients and partners to solve complex natural resource management challenges in the most efficient and cost-effective way.
MNC is a proud Esri Canada Silver Partner. As part of the world's largest geographic information community, Esri Canada provides off-the-shelf GIS products, consulting services and – in collaboration with partners like MNC – value-added geospatial solutions.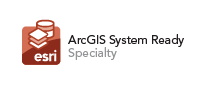 For 5 years, MNC has been an Authorized Service Partner with Safe.com – helping to deliver innovative solutions that leverage the powerful FME® software. Our team specializes in modernizing workflows, making datasets accessible and providing best-in-class geospatial solutions for our clients!
Alberta Data Partnerships (ADP) is a non-profit, public-private partnership created to provide long-term management of comprehensive digital data sets for our stakeholders.