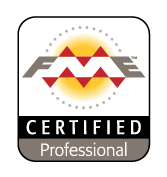 Calgary, Alberta, January 8, 2020: The MNC team is pleased to congratulate Linda Mudie, MNC GIS Technician, in obtaining her accreditation as an FME* Certified Professional on December 23, 2019.
With support for 350+ formats and applications, FME® (Feature Manipulation Engine) is the data integration platform that converts, transforms, and automates data whenever and however, it's needed. Built by Safe Software, FME technology empowers organizations to overcome their data challenges. FME is known as "the Swiss army knife for your data" because of its ability to translate data using a large library of transformations. FME empowers users to confidently transform spatial data so it can be used and shared – where, when, and how it's needed. MNC has been a Safe Software partner since 2018.
Linda's certification was supported by MNC and came after much hard work and dedication on her part.
Linda has spent the past four years with MNC focusing on GIS data preparation and conversion. She is adept at developing processes and tools to automate workflows using FME and Model Builder, providing real-time quality control and publishing large datasets. Linda has used FME to load, transform and validate data on several projects. She has increased efficiencies by creating scripts converting CAD to Shapefile and Geodatabase, Oracle to Feature Service and assisted in the Parcel Fabric to CAD conversion, to name a few. She has also redesigned quality control scripts as requirements have changed. She is experienced in various settings and capacities of managing large or complex datasets within GIS projects and is well versed in GIS mapping techniques, projection and datum conversions and survey drafting including coordinate geometry (COGO) routines. Linda is experienced and knowledgeable working with data models, standards and conversion techniques as she aided in the creation of the parcel fabric for the ParcelMap BC project.
MNC GIS Manager, Wendy Amy said, "Linda has been instrumental in creating and enhancing workflow process here at MNC that support our various Geomatics projects. In particular, as a project manager, I appreciate Linda's ability to translate requirements into repeatable FME processes that support rigorous quality auditing. This ensures that MNC's clients are consuming the most reliable and correct spatial data to support their business."
Linda is now listed amongst the consultants on the FME Certification Wall of Fame.
About MNC
MNC has been providing professional mapping services throughout Canada and the United States since 1998. They specialize in surface land mapping (parcel, cadastral, and title). They have built digital data quality checking solutions utilizing FME for the three western Canadian provinces – Alberta, Saskatchewan, and British Columbia. These solutions are used by over 500 surveyors and support survey plan and land title registrations and parcel mapping efficiencies.
About Safe Software
Safe Software is one of British Columbia's largest software companies with more than 20,000 customers in over 100 countries. Its FME software is used by utilities, governments, engineering firms, and other organizations around the world to integrate enterprise systems and automate data processing. The company has 140 employees and is headquartered in Surrey, where it was founded in 1993.
*FME is a registered trademark of Safe Software Inc. All other product names may be trademarks or registered trademarks of their respective owners.